Kinetic Metallization:
Gas Blending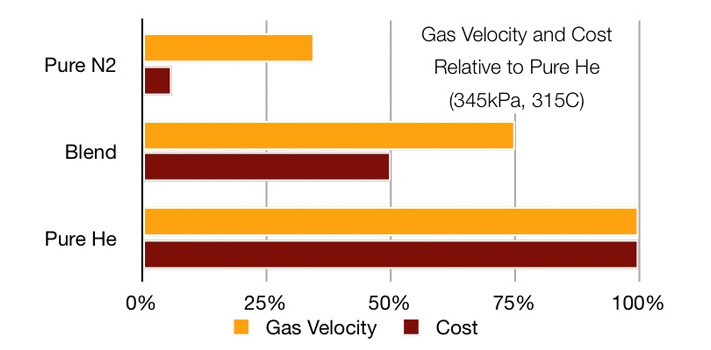 Gas Blending
An inert gas, typically Helium (He) or Nitrogen (N2), accelerates the powder particles. Inovati's friction-compensated sonic nozzle accelerates the gas to its sonic velocity. The sonic velocity of Helium is three-times that of Nitrogen at the same temperature. High- strength alloys (incl. Nickel, Titanium, and refractory metal based) and carbide materials (Tungsten Carbide - Cobalt, Chromium Carbide - Nickel Chrome) often require the higher gas velocity. Unfortunately, the cost of using Helium is higher than Nitrogen gas.
The high velocity of Helium gas and lower cost of Nitrogen balances in blending of He and N2 gases in Inovati's Kinetic
MetallizationTM process. This is especially beneficial in Japan, where the cost of Helium is approximately six-times (6x) that of Nitrogen. Inovati's unique gas manifold and valve system provides a quick change from single gas to mixed gas configuration. Helium is used as the TCU (Thermal Conditioning Unit) gas due to its high heat capacity, while Nitrogen is used as the PFU (Powder Fluidizing Unit) due to its high density and powder transport characteristics.

Kinetic Metallization (KM) is a low temperature deposition process that employs a specially designed, two-phase, friction compensated sonic nozzle to accelerate micron- size powder particles entrained in an inert carrier gas. The sonic nozzle directs the gas/ particle suspension at a temperature well below the powder's melting point onto a substrate. The high-speed collision (700-1000 m/s) of the micron-size powder particles cause very large strain and strain rates in the particles, which produces depositions having unique strain-hardened properties resulting from plastic deformation. Metallurgical bonding is achieved exclusively through solid-state reaction - bulk melting does not occur.