Kinetic Metallization:
Coatings Once Thought Impossible
Ti
Ti Properties
Reinforcement up to 70 V %

Strength enhancement up to 100%

Part density up to 100%

High specific strength and stiffness

Up to 200% of matrix material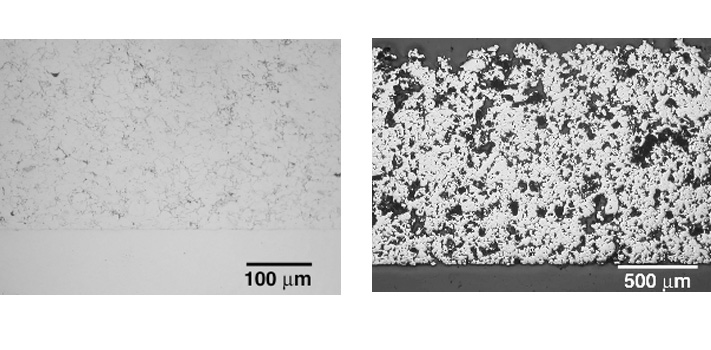 Titanium
The above micrograph is of Kinetic Metallization (KM) deposited titanium coating on a titanium substrate. This image of the as-sprayed etched microstructure exhibits >99% density and high adhesion strength to the substrate. As grit-blasting of the substrate is not required, the resulting coating to substrate interface is very smooth. By varying KM deposition parameters and powder feedstock, KM can be used to deposit controlled porosity coatings, as seen in the micrograph below. These porous coatings are beneficial to certain high surface area applications, such as in the biomedical arena, catalytic surfaces, and electrolysis.