Kinetic Metallization:
WC-Co Hard Chrome Replacement
KM WC-Co Characteristics
Tunable Hardness (700-1500 HVC)
Fully Dense
High Adhesion Strength
Good Corrosion Resistance
No Decarburization
Field Repairable
Unaffected by extreme Temperature
KM WC-Co vs. Hard Chrome
Higher Microhardness
Smaller, Safer Equipment
Environmentally Safe
Enhanced Worker Safety
Lower Cost
Faster for Small to Medium Parts
Application Areas
Hard Chrome Replacement
Temperature Sensitive Materials
Small Parts
Wear Resistance
Fatigue Resistance
Corrosion Protection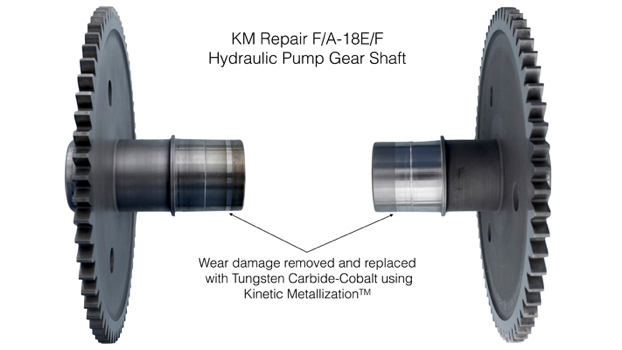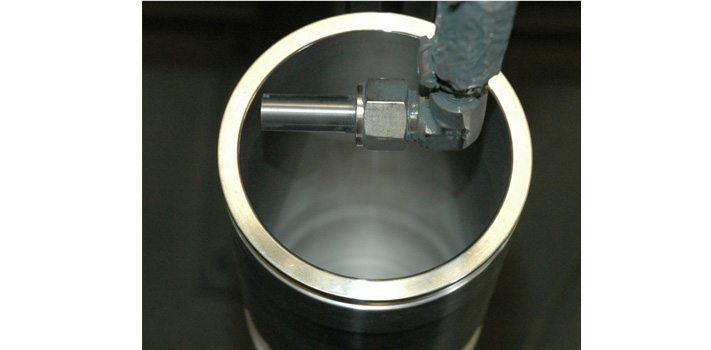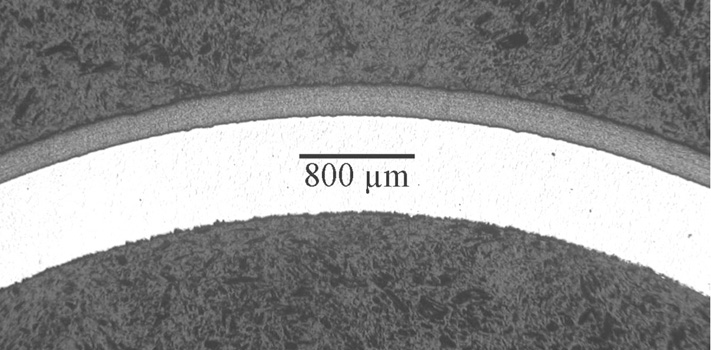 Hard Chrome Replacement (KM HF Coatings)
Electrolytic Hard Chrome (EHC) is widely used for wear resistance coatings within the defense, automotive, industrial equipment, electronics, and civilian aircraft marketplaces. However, it produces a significant hazardous waste stream of known carcinogens. Tougher OSHA regulations and penalties for disposal of these waste products are driving the interest in developing an alternative to this process.

OSHA Fact Sheet: Health Effects of Hexavalent Chromium
Many groups have turned to HVOF for hardness coatings, but HVOF has its own drawbacks. HVOF operates at over 6,000F and requires a special room in order to protect the operator. Kinetic MetallizationTM (KM) is the future of EHC replacement. The KM process is a low pressure, low temperature deposition technology that is revolutionizing the coatings industry. The low temperature of the KM process precludes decarburization of WC based coatings, increasing the resilience of these protective surfaces when compared with other thermal spray techniques. Low temperatures reduce the chances of damaging the substrate or its heat treatment. This allows the KM process to coat surfaces that no other process can. Inovati has developed the KM HF coatings for hard-facing components with Kinetic Metallization. Some of the KM HF coatings are Tungsten Carbide–Cobalt (WC-Co) or Tungsten Carbide–Nickel (WC-Ni) based. These coatings can attain surface hardnesses greater than EHC or HVOF coatings.
| | Kinetic Metallization | Typical Hvof | electrolytic Hard Chrome |
| --- | --- | --- | --- |
| Hardness | 700-1500 HV | 700-1200 HV | 800-1000 HV |
| Field reparable | Optional portable field unit | Varies | No |
| thickness | 0.001-.050" | 0.001-0.025" | 0.0001-0.02 |
| Environmental & Health Concerns | Cobalt or Nickel | Cobalt or Nickel, Air Pollutants | Hexavalent Chromium* |
| Porosity | <1% | <1-5% | <1-3% |
| bond strength | >10,000 psi | >10,000 psi | ~10,000 psi |
| corrosion resistance | 1000 hours G85 Salt Fog | 400 hours G85 Salt Fog | 500 hours G85 Salt Fog |
| temperature effects | Negligible | Apparent | Negligible |
Inovati's WC based coatings have the potential to change the entire field of wear resistance. KM HF coatings have excellent microhardness, which can be adjusted to suit your needs, and adhere with a bond strength greater than that of EHC. Because of Inovati's choice of particle size, deposition temperature, and sonic gas velocity, the KM process creates exceptionally wear-resistant surfaces. Kinetic Metallization is trusted and approved by NAVAIR for dimensional restoration and hard-facing of repair components for the F/A-18. Kinetic Metallization is saving NAVAIR an estimated $2.2 million per year while helping meet environmental regulations. They have just started to realize the potential of KM and continue to fund the development of KM hardfacing and repair operations at fleet readiness centers.
Kinetic Metallization is the safe, low temperature, proven alternative to EHC. Inovati is the sole manufacturer of Kinetic Metallization equipment and is proud to offer both developmental and production equipment packages that can be configured to meet our customer's needs. Please visit inovati.com or call us at (805) 571-8384 for more information.