Kinetic Metallization:
Spray Enclosure
System Packages
Components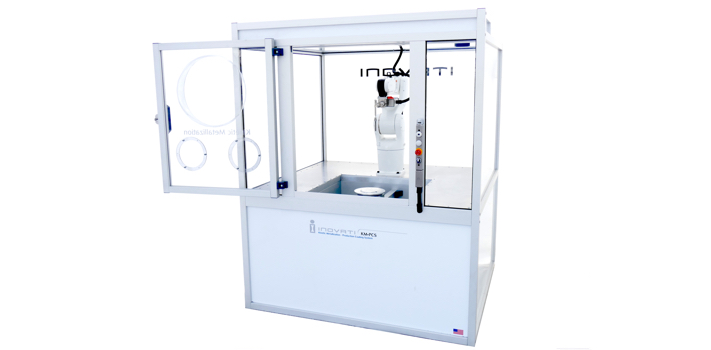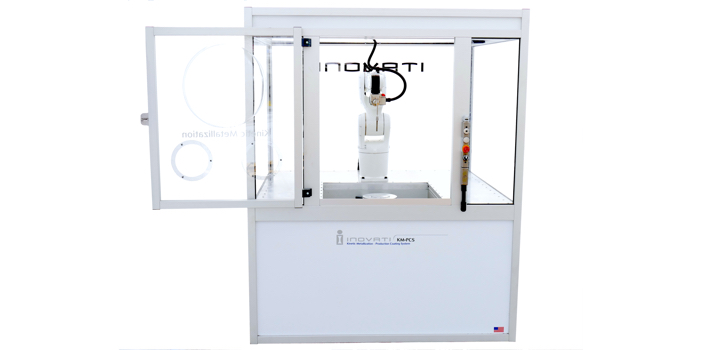 Spray Enclosure
| | |
| --- | --- |
| Dimensions: 62"W x 62"L x 76"H | Integrated Safety Interlock |
| Raster Platform | Integrated 7th Axis Rotary Stage |
| Integrated 6-Axis Robot | Bellypan and Connection for Dust Collection |
| PolyX Noise Attenuation Vent | Cleaning Port |
Kinetic Metallization is generally done inside a spray enclosure for technician and environmental safety.
The spray enclosure is part of a dust collection system which removes dust from the enclosure through the bellypan. Most of the dust is removed in this fashion and collected in a storage container provided with the dust collector, which minimizes overall powder cleanup. The current model also incorporates a safety interlock that prevents users from opening the door during operation. The interlock has an integrated emergency stop switch for safety purposes. When pressed, the safety switch will immediately shut down the Kinetic Metallization Process as well as any robotic motion.
The upper half of the spray enclosure incorporates acryllic and lexan windows to optimize visibility during the deposition process. The top of the spray enclosure uses a PolyX filtered vent in order to allow proper air flow though the enclosure while preventing any dust particles from escaping. There are also cleaning ports, which allow for access of an air wand to clean off any powder on the robot or bellypan.
The standard KM Spray Enclosure is compatible with the KM Production Coating System and the KM Coating Development System. There is an option for glove ports with the KM Production Coating System Spray Enclosure for manual manipulation using the KM-Handheld Gun.